My Week in Westminster #SciWestminster17
By Marloes Peeters (lecturer Chemical Biology ManMet)
After Brexit and recent comments of Michael Gove ("Britain has had enough of experts"), I gained an interest in how policymakers use scientific evidence to support their decisions. The Royal Society pairing scheme came exactly at the right time and I was surprised that they found a pair for me after months of waiting. Overall, I found it a very enjoyable experience – not just to meet the other participants that all came from different backgrounds but also to see what life of a civil servant was like (stressful).
The week started with Christmas shopping in London and a delicious Italian dinner in Covent Garden to meet the other participants. This was just a warm-up for the day after that was packed with information, certainly for someone who knows little about parliament and its many committees. It started off with a (long) tour with a very determined Swedish lady who directed us through the building.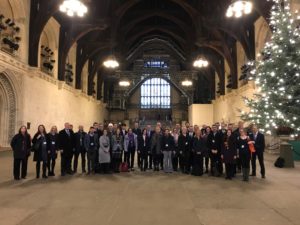 All participants of the Royal Society pairing scheme in the chilly halls of Parliament
We were not allowed to take pictures, but it certainly was very chilly and the rooms in parliament were much smaller than I thought they were. Interesting thought: if MPs want to have a seat, they need to make sure they turn up on time! We then moved to Portcullis House where we had a range of presentations from POST (Parliamentary Office of Science & Technology), Campaign for Science and Engineering, Royal Society of Chemistry, and various others. It was surprising to me how those organizations, such as the RSC and Royal Society, spent on gathering evidence and they way to get your voice heard as a scientist would go through them. Over a long wait, we had a few talks including from Chi Onwurah (MP for Newcastle Central, I saw her at one of the late shows there) who actually turned out to be an ex-engineer. The day ended with a charismatic talk from John Bercow, who said he does not know anything about science but wants his daughter to be a scientist.
The following two days were the shadowing days. I was paired with Ben Rayner, a ManMet graduate in geography and conservation biology, who is a senior policy officer in DEFRA (see image below).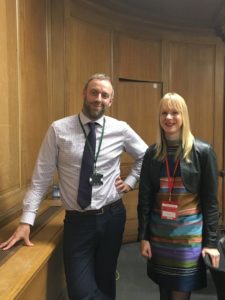 I heard of at least four other people that they were paired with civil servants from the DEFRA, and apparently, this department has doubled in size since the Brexit since all agricultural laws are made by Europe (it was described as the current "place to be"). What I learnt in the first day: civil servants use as many acronyms as we do at the university, which can make it difficult to follow conservations. The whole day was packed with meetings but contrary to university life, all these meetings were short and sweet (max 45 min). Time for lunch is limited and they can be called away at any time, such as receiving emails for ministers questions where a response within 15 min is required. Ben shared his experiences at ManMet and told me about is interesting career path from working at the local government working on environmental science (nitrate levels in the Peak District) to his current role at the DEFRA. We learned on the last day that civil servants cannot have a promotion within their current role, hence you will see that most of them were only in post for several months. They were also surprisingly young, I suspect that the majority of the people was younger than 30, and they all seemed to be passionate about their job. On the second day, I talked about my research to team and shared my experiences of working with Innovate UK and funding bodies. It was definitely interesting to get a flavor of how fast-paced the decision making process for civil servants is (they certainly work with different deadlines than universities). This also gives some insight in the frustrations there are between scientists and policymakers: if you need to gather evidence within 15 min, it is most likely that you will use Google too.
The night finished with a mock selection committee and the parliamentarian reception of the Royal Society of Biology. Luckily, the programme on Thursday was a bit more relaxed and gave us time to exchange experiences with follow participants and let the information sink in. The final presentation of the day by Chris Witty, Chief Scientific Adviser, was one of the most impressive ones of the week to me; he showed an example (ebola) of where policy can overrule scientific advice and how important it was to be impartial when providing advice to government (he certainly has a poker face).
Overall: met a bunch of interesting people, confirmed some of my skepticisms towards policy makers, but also gained more respect for the work that civil servants do. I look forward to the reciprocal visit of Ben Rayner to ManMet, would be interesting to see if the John Dalton Building has changed much since his graduation!
Visit https://www.marloespeeters.nl/?page_id=136 to find out more about Marloes Peeters.